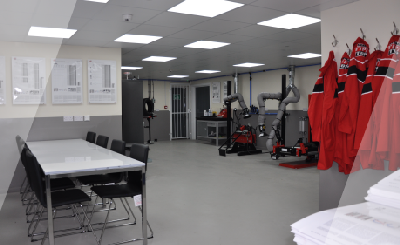 Training Centre - Tyre Repair Accreditation
Tyre Repair training - UK
REMA TIP TOP UK's Automotive tyre repair training facilities set the standards for the future. When it comes to progressive training techniques within the Automotive aftermarket, REMA TIP TOP UK are a leading authority. The tyre repairs training facilities offers an impressive collection of workshop and classroom environments where delegates can learn about the changes in tyre technology and repair techniques in comfortable surroundings.
REMA TIP TOP, offers all its customers comprehensive, accredited industry specific training and teaching on how to repair tyre injuries (punctures) on passenger cars to agricultural vehicles.
Courses are available which cover:
Tyre repair techniques are instructed and carried out in accordance with the current British Standard (BSAU 159g) by our qualified technicians and instructors.
Prior to the opening of the new training school, REMA TIP TOP, Chief Executive, Mark Insley stated: "We recognise the importance of education and training to an industry which is responsible for the safety of millions of people on our roads on a daily basis.
"With this well-­equipped and highly professional facility we will provide an invaluable resource for our customers."
REMA TIP TOP AUTOMOTIVE, UK Technical Sales Manager, Jason Browning-Williams commented further; "With an increasing number of new starters joining the industry, the training courses provide educational theory and practical application on the correct repair procedures and techniques to ensure the integrity and expertise of the next generation. With the addition of the garage equipment training facility we offer our customers a comprehensive training package," said Jason. "It's about making sure we provide a total solution to our customers and market as a whole."
Corghi equipment training - UK
Training courses are also available equipping tyre fitters with the skills to use its comprehensive range of CORGHI garage equipment, Leeds, West Yorkshire. Training covers a range of Corghi garage equipment including the latest tyre changers, wheel balancers and wheel alignment machines. So whether is car or truck equipment training - we have the training solution.
CONTACT DETAILS
Telephone: 0

7836 618576

Fax: 0113 2772139
SOCIAL MEDIA