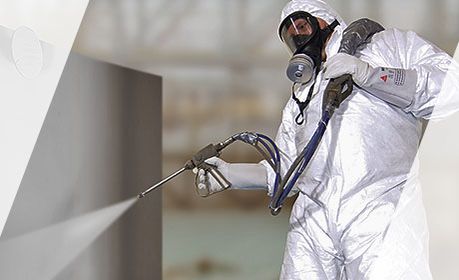 For a wide variety of surfaces
Our REMA TIP TOP coating systems offer optimal corrosion resistance. Through innovative formulations high diffusion resistances and thus a long service life can be achieved. Specifically developed systems can also be used at operating temperatures of over 200 °C. The coating systems may be applied to steel and concrete surfaces. Application usually is carried out seamlessly using a special spray technology. Also coatings that cure in a few seconds even in sub-zero temperatures are available.
REMA TIP TOP coating systems:
COROFLAKE Trowelled Lining
COROFLAKE lining is applied with a trowel to protect metallic component against aggressive media under immersion conditions. It is based on polyester and vinyl ester resins and reinforced with micro-thin C-Glass flakes. This ensures excelled chemical resistance and outstanding permeation resistance. It can be used for almost all media at temperatures up to 90°C under immersion conditions.
COROFLAKE Spray Coatings
These coatings are sprayed or rolled on and combine the chemical resistance of trowel lining with the simplicity of the spray application technique. They are based on vinyl ester, epoxy and epoxy-Novolac resins and reinforced with C-Glass flakes, mica or graphite. They offer economical long term protection of installations and a very long service life. They can be used at temperatures of up to 230°C under dry service conditions.
TOPLINE Lining System
Polyester, vinyl ester, epoxy and epoxy-Novolac resins are used for glass fabric reinforcing lining systems. These linings are not just distinguished by their resistance to corrosion but also their outstanding impact strength and abrasion resistance. The innovative polymer technology enables such coatings to be used in the food and pharmaceutical industries. Their non-slip texture and dense surface require no additional sealing and is suitable for use up to 75°C under immersion conditions.
TIP TOP Lining
TIP TOP Lining is compromised of the same resin as the TOPLINE series but with a larger proportion of resin to provide the best chemical resistance possible. Glass mats and flexible resin allow this lining to be used at operating temperatures of 80°C and can be cleaned with steam-jet equipment.
COROPUR polyurethane coatings
COROPUR stands for moisture-hardening, single component coating systems that can be applied by brushing, rolling or spraying procedures. Alongside the simplicity of application and high tolerance to moisture, COROPUR coatings feature a combination of great surface strength with high elasticity therefore ensuring long-term corrosion protection of steel component parts. The coatings are mainly used for the corrosion protection of steel parts and steel water engineering constructions.
REMACOAT Polyurea Coatings
REMACOAT Polyurea coatings stand for highly-reactive 2-component spray coatings based on polyurea. In combination with the appropriate primers, REMACOAT is suitable for the coating of steel, concrete, light metal, plastics and many other materials. It is insensitive to moisture, relatively insensitive to ambient conditions and cures even at very low temperatures. It can be used as a multifunctional surface protection on component sealing, corrosion protective coatings, protection against sticking and wear and much more.
CONTACT DETAILS
SOCIAL MEDIA
BROCHURES