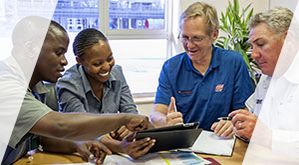 REMA TIP TOP has developed into a tradition-rich company in the course of its 90-year history through its consistent orientation towards the customer and its approach to cultural exchange. As always, quality and the benefit to the customer are of prime importance to us. The needs and requirements of our customers stimulate us to extend and continually optimize our portfolio of offerings in a consistent manner.
High-value products and highly qualified employees
Another secret of the REMA TIP TOP success is the global interaction between high-value products, professional services and experienced and highly qualified employees. The worldwide REMA TIP TOP network permits us to pass on our know-how and thus learn from each other on a daily basis. In this manner we can guarantee absolute reliability and dependability and contribute to the success of our customers.