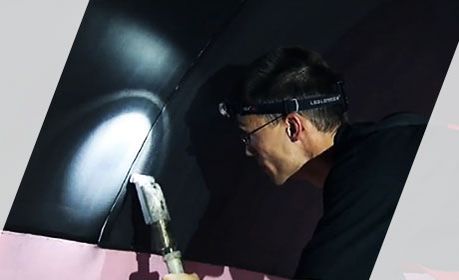 Rubber Linings
The proven REMA TIP TOP corrosion protection rubber cladding offers your plant, process vessels and storage tanks, flue gas scrubbers, thickeners and pipelines dependable and long-term protection against abrasives and chemicals.

The innovative REMA TIP TOP polymer technology also permits use of specially developed rubber linings in the foodstuffs and pharmaceutical industries as well as in drinking water systems. Our highly-trained personnel advise, install and support our customers in a flexible manner and with a markedly high degree of technical competence.
Rubber Linings by type:
CHEMOLINE soft rubber lining (pre-vulcanised)
These high-quality rubber types and mixtures cover a diversity of surface protection applications in both environmental protection and process industries. These pre-vulcanised rubber lining systems have extremely high mechanical, thermal and chemical resistance and can be used on all steel or concrete substrates.
CHEMOLINE soft rubber lining (unvulcanised)
Non-vulcanised soft rubber lining systems are suitable for environmental protection and in process industries where the greatest mechanical, thermal and chemical resistance is demanded. CHEMOLINE soft rubber materials are vulcanised in the autoclave or at ambient temperatures after on site application.
CHEMONIT hard rubber lining
Non-vulcanised CHEMONIT hard rubber lining systems are based on high-quality synthetic and natural rubbers. They are suitable for application in the process industry up to temperatures of 100°C. After application they are vulcanised in the autoclave, although some special formulations allow onsite vulcanisation with hot water or steam.
REMA TIP TOP Repair Systems
These repair systems are based on high-quality epoxy or vinyl ester resins, as well as synthetic rubbers. Dependent on the type of rubber lining, we repair damage to the lining quickly and permanently repaired using either soft rubber repair kit or hard rubber repair paste.
CONTACT DETAILS
SOCIAL MEDIA
BROCHURES