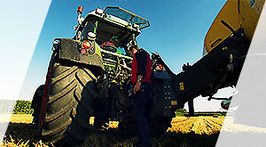 Tyre repair and vulcanisation represents the founding heart of the company in the UK. It is also true that the classic REMA TIP TOP repair products have been imitated over time, though unmatched in performance and reliability. The REMA TIP TOP brand is still the industry bench-­mark for tyre repair specialists. Key design and production features, including the unique bonding layer, adhesion strength, durability and packaging of its patches, combi and vulcanising products make the brand the experts preferred choice.
REMA TIP TOP's passion for tyre repair is undisputed. Far beyond rigorous attention to product design, performance and durability, the company place enormous emphasis on professional repair through formal REMA TIP TOP training accreditation. REMA TIP TOP, offers all its customers comprehensive, accredited industry specific training and teaching on how to repair tyre injuries (punctures) on passenger cars to agricultural vehicles. Courses take place at REMA TIP TOP's modern training centre in Leeds, West Yorkshire, which opened its doors in October 2015. Repair techniques are instructed and carried out in accordance with the current British Standard by qualified REMA TIP TOP technicians and instructors.
REMA TIP TOP places huge prominence on sustainability in its production processes. The business continually strives to optimise the energy efficiency of its systems, use raw materials more effectively and promote the utilisation of waste materials. Renewable energy sources are increasingly used in production processes and demonstrate a firm progression towards achieving zero emission manufacture and development.