Newsroom
02/08/2022
REMAREP ULTRA 10 "Black": Ultra-fast belt repair now available for major damage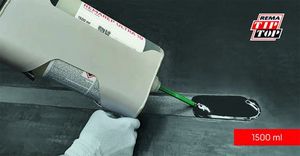 Time is money - unplanned breakdowns of conveyor systems and long downtimes due to repairs often lead to high costs. The two-component repair paste REMAREP ULTRA 10 "Black" made of solvent-free PU in the new cartridge size helps to significantly reduce repair time, especially for major damage to conveyor belts as well as to PU, PVC and elastomer components.
With the new product, REMA TIP TOP is responding to the high demand from customers who are already successfully using the red 210 ml cartridges and require an equally reliable solution for larger conveyor belt repairs. Accordingly, the new black repair paste is available in larger units of 1500 ml per cartridge. A battery gun is used for easy and efficient application.
Like REMAREP ULTRA 10 for minor repairs, the new repair system for major defects offers exceptionally fast curing: at 24° Celsius, the hardness averages 65 Shore A after 15 minutes, and a repaired conveyor belt can be loaded after 60 minutes.
REMAREP ULTRA 10 "Black" offers similar wear properties as the original belt material and is resistant to UV radiation, oil and diesel fuel. The main applications of the repair compound are in conveyor belt repair, for example in case of damage to cover plates and longitudinal cracks in the conveyor belt, and in sealing punctures on belts.
In addition to the repair of conveyor belts, the REMAREP ULTRA 10 repair material is particularly suitable for filling joints in rubber linings and for cosmetic repairs to PU, PVC and elastomer components. The repair can be done either by trained REMA-TIP-TOP service personnel or by qualified personnel at the plant operator's site.
With REMAREP ULTRA 10 in a red version for minor repairs and in the new black version for major repairs, REMA TIP TOP now offers a universal repair system for every demand.