Newsroom
10/19/2016
REMA TIP TOP UK – Celebrate winning 2016 NTDA award for an unprecedented third year in succession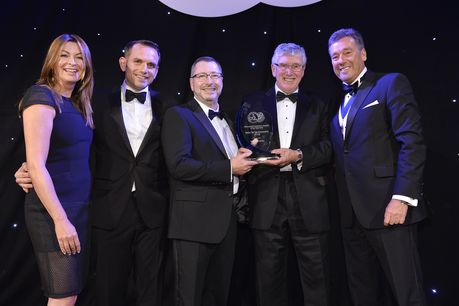 REMA TIP TOP UK – Celebrate winning NTDA award for the third time in as many years
REMA TIP TOP AUTOMOTIVE UK LIMITED retain the 2016 NTDA – Tyre and Aftermarket Equipment Supplier of the Year award for an unprecedented third year in succession. The award, sponsored by 'Automechanika' was presented by NTDA Chief Executive Stefan Hay and MotoGP TV presenter Suzi Perry at the 87th NTDA Awards ceremony. The VOX Conference Centre hosted the sell out NTDA conference and awards dinner for the first time, with the event taking place on Thursday 6th October 2016.
Delighted at receiving the prestigious NTDA award for the third time in as many years, Chief Executive – Mark Insley praised the dedicated team of professionals at REMA TIP TOP that drive the business forward in challenging times. Mr Insley, continued by stating, "Our customers remain the number one focus. By providing the highest levels of service, superb product quality and competitive pricing our goal is to maintain REMA TIP TOP's position as the number one aftermarket supplier for many years to come".
Managing Director, Cliff Jones commented "REMA TIP TOP is chosen by many of the leading players in the industry for its reliability, quality and stability. Today, even more than ever, external economic factors are playing an increasing role in the business decisions we are all making - which is why REMA TIP TOP will continue to offer a safe haven for all your aftermarket requirements, driven by a proven track record and a guaranteed commitment to the success of your business".