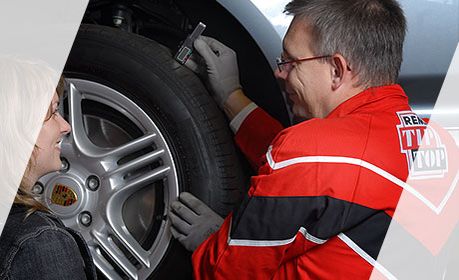 Diagnostics and service
REMA TIP TOP provide customers with the best possible support and offer a complete package through its PROFILER diagnostic range to make this a reality. A specialised product portfolio of diagnostic scan tools and accessories from REMA TIP TOP covers all requirements of this fast evolving and challenging environment.
With its Android based platform the PROFILER AXONE S can be upgraded from a TPMS only scan and programming tool to a fully operational EODB diagnostic scan tool, simply by installing different software modules. Required functions can be easily added via download/update! The features of the PROFILER devices will continually be updated in the future.
In addition, all technical information is readily available including guidance on positioning the necessary calibration panel and precautions for the calibration process. Calibration panels are available and listed in the latest REMA TIP TOP documentation. Due to a modular architecture the CAMERA and Park Assist calibration kit for the 'PROFILER AXONE S CAR' and new 'PROFILER AXONE NEMO', facilitates the creation of the best combination of calibration panels for the professional. The software supplies all the necessary instructions for the correct positioning of the panel (height & distance from the vehicle) and guides the user step by step through all the phases of the calibration.
Specific diagnostic help sheets, edited for each make/model, are included as well as information for correct alignment. This portfolio is constantly evolving as new vehicles equipped with Advanced Driver Assistance Systems (ADAS) are entering the market.
For detailed product information, please look at our product catalogue or for more information please contact the UK workshop equipment department on 0113 277-0044.
CONTACT DETAILS
SOCIAL MEDIA